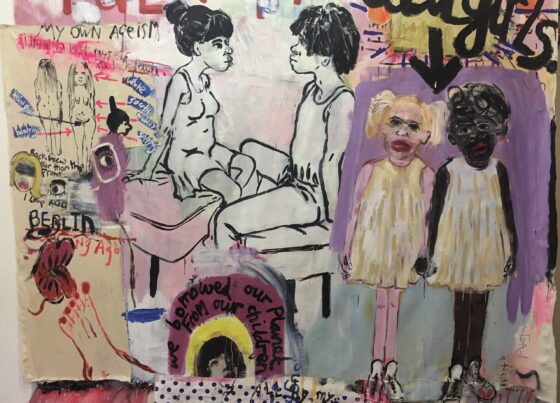 Sue Williams
contemporary, contemporary culture, exhibition, experience, installation, latest news, multi-disciplinary, painting, social media, text, visual arts
0 comments
 Fully Awake 6:6
The culmination of a six part exhibition cycle at Holden Gallery, Manchester School of Art
November 4th 2021 – December 17th 2021
Fully Awake is a cycle of six exhibitions which embraces an inter-generational approach to celebrating the practice and teaching of painting. Curated by Ian Hartshorne & Sean Kaye for the organisation Teaching Painting, whose remit is to produce publications, symposia, conferences and exhibitions celebrating the teaching of painting within Art Schools at all levels.
Sue Williams with Terry Setch and Geraint Ross Evans
David Alker with Michael Brick and Inga Lineviciute
Eliza Bonham Carter with John Dougill and Sarah PootsGraham Chorlton with Michael Brick and Jack Foster
Dan Coombs with Ken Kiff and Fatemah Bagherian
James Green with John Strutton and Hannah Short
Atsuhide Ito with Mick Finch and Harriet Poznansky
Peter Layzell with Roger Woodiwiss and Abi Hampsey
Donal Moloney with Lisa Milroy and Stephanie Carr
Kathleen Mullaniff with Mario Dubsky and Liz Arnold
Sarah Pickstone with Prunella Clough and Sara Anstis
Wayne Robinson with Tom McGuirk and Amy Robinson
Gary Simmonds with Peter Lloyd Lewis and Conor Rogers
John Strutton with Alan Miller and Stephen Dunne
Ruth Sumner with John Lancaster and Tom Robertson
Sue Williams
contemporary, contemporary culture, conversation page, dialogue, edgy, exhibition, experience, installation, latest news, lived experience, lockdown, multi-disciplinary, Nature, personal, Portrait, social isolating, social media, text, Travel, Uncategorized, Video, visual arts, word-events, writing
0 comments
CONVERS[ISOL]ATION is a collaborative project between Sue Williams and Marilyn Allen, which responds to the experience of social isolation during COVID 19, 2020.
CONVERS[ISOL]ATION adopts a very different format to conventional art theory texts in that emphasis is placed upon a dialogue between theory and practice rather than an analysis of one by the other.
CONVERS[ISOL]ATION Each 'conversation page' comprises an image and two dialogic pieces of text, which reflect the episodic communication style typically associated with social media platforms such as Twitter.
CONVERS[ISOL]ATION Reading and writing practices in contemporary culture are inevitably affected by social media and as such the short 'bursts' of text, which are characteristic of this project, move between Williams' personal writing/images and Allen's word-events in an edgy contemplation of a lived experience in isolation.
Image and text - Sue Williams
Word Events - Marilyn Allen
Photography - Roy Campbell-Moore
Sound Artist - Simon Kilshaw
Vocals - Marilyn Allen